Two 21-Year-Old Black Men Were Dismembered And Dumped In A Pond In Oklahoma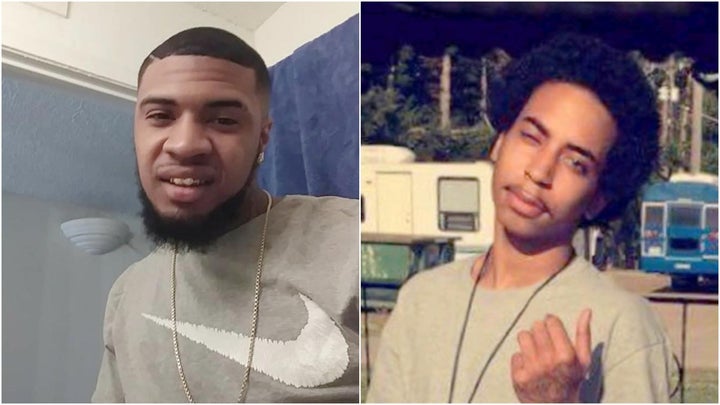 Jarron Moreland (left) and Alize Smith.
Facebook/families of Moreland and Smith
Oklahoma officials have charged three white men and a woman in connection with the deaths of two black men whose dismembered bodies were found tied to cinder blocks at the bottom of a pond.
Alize Ramon Smith and Jarron Keonte Moreland, both 21, disappeared on April 14 after they arrived at a grocery store parking lot in Moore, Oklahoma, to sell a pistol to 16-year-old Brett Boettler, who had found them through Craigslist, police said.
According to court records, Smith, Brett, and his 22-year-old brother, Kevin Boettler, pulled into the Crest Foods in a white van to meet Moreland to buy the gun. When Moreland opened the door to get inside, the 22-year-old told investigators that he heard someone "rack" (or cock) a handgun. His 16-year-old brother then suddenly turned, wielding a black handgun, and allegedly fired four bullets into the backseat.
Brett was charged April 25 with first- and second-degree murder, unlawful removal of a dead body, desecration of a human corpse, and possessing a firearm after a delinquent adjudication. He will also be tried as an adult, officials said.
Kevin Boettler was charged with accessory after the fact and unlawful removal of a dead body.
Witnesses told police they saw Moreland get inside the van, heard gun shots, and saw one "black male with blood covering his face and hair" and another one "being pulled into the van" before it sped off, leaving behind a bloodied pistol and sandal.
"I don't even know where to begin to look for him," Kennetha Moreland told local media the day after her son went missing. "I'm just lost, my whole world has just crumbled because I don't know where my child is."
Four days later, authorities found the bodies of Moreland and Smith at the bottom of a pond.
Facebook: JonathanCooperJournalist
After the shooting, police say the Boettler brothers called their mother, Crystal, who told them to drive to her boyfriend's family's house. There, the boyfriend, Johnny Shane Barker, allegedly helped them remove the bodies, dismembered them, tied them with chains to cinder blocks, and dumped them in the water.
Smith and Moreland's clothes were burned in a barrel before the three men started cleaning the van, according to a police affidavit.
Officials charged Crystal Boettler, 40, with accessory after the fact and Barker with accessory after the fact, unlawful removal of a dead body, and desecration of a human corpse.
Police say they found Brett Boettler through posts on social media.
"He used multiple different platforms to arrange the meet-up," Moore Police Sgt. Jim Lewis told BuzzFeed news. "[Boettler and Smith] were discussing what they were going to do when they all met up. So we issued a warrant and then tracked his cell phone to the home."
When officers arrived, they found a white van with its interior seats and carpeting removed, "dried blood spatter" on the ceiling. They also found car-cleaning products, a power washer, a bucket of water with a chainsaw bar inside and several jigsaw blades.
At first, the Boettler brothers tried to run from police, but were found about a mile away and told authorities exactly where they could find the bodies, Lewis said.
"This is a very different, strange, kind of deal," he said. "It's horrific."
The family members of Moreland and Smith told local media they were relieved to have closure.
"We're just glad that we get some closure and we found him," Moreland's uncle, Anthony Anderson, told KFOR.
Smith's aunt, Raquel Hall, also told NewsOn6 that at least the family knows what happened.
"Even though we weren't able to find him alive, we were able to find him and get that closure that we all needed as a family," she said.
Still, she added, "Nobody deserves to die the way that they died."